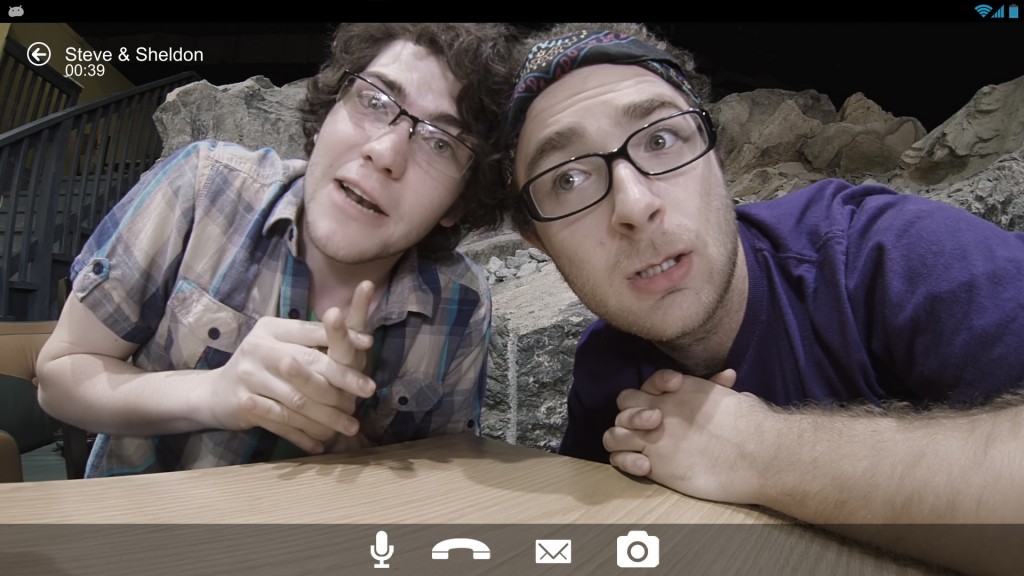 We're deep into the production schedule for the Spaces series with filming for episode 3 nearly complete. The series has taken a sort of life of it's own at this point as the scripts have grown exponentially as we've sought to develop the existing characters to a greater degree. In episode 2, I added a few more visual effects elements by incorporating a simulated Facetime or Skype style app to Mason's phone so we could utilize a couple different locations and characters at the same time to add to the elevated sense of tension that Charlotte feels as her secret is revealed. I co-wrote the script for episode 2 with David Currie but, with certain sections, we encouraged the actors do a little improv here and there and they did a fantastic job of breathing more life into their expanded roles.
To make the video chat sequence more interesting, we utilized the GoPro Hero III to a far greater degree in the production pipeline with very positive results. In all, during the cafeteria side of the exchange, we were running the GoPro, 2 Sony HXR-NX5u Cameras, and my Canon 60D simultaneously so we could incorporate several cutaways from the chat session to develop a little personal history from Mason's friends, Steve and Sheldon.  Surprisingly enough, we still managed to get all our shots over the course of two afternoons and incorporate a new character, Valentina, into our little burgeoning drama. Luckily, we were able to run with a 3 person crew consisting of myself, David Currie and Zion Madden for most of the second day where we filmed the exterior, car shots, and the museum. We also again opted for the lavalier mics for the bulk of both shoots with sometimes mixed results (rustling clothing and a little feedback here and there), however, they really came in handy for the cafeteria shoot as a boom mic would have definitely caught ambient audio from the festival going on just outside the glass doors. Going forward with filming for episode 4, I do intend to rely a lot more heavily on the boom mic since we will be filming in more controlled environments where one camera can be locked down.
I edited the the footage with Final Cut and Premiere, cleaned and graded the footage with After Effects, utilized Mocha and After Effects to handle the visual effects shots, and processed the audio with Audition. You can check out the results below and check back for part 3!