Shooting Video with a DSLR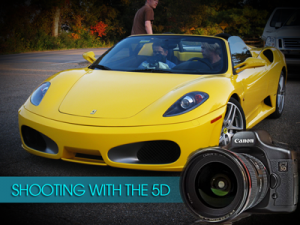 Back in late October, I had the opportunity to work with the production team on a pilot for a new cooking show that was shot in Johnson City, TN of all places.  The show is based on the exploits of a pair of friends who head out in their Ferreri for culinary adventures in some of the oddest places and stars local professor Dr. Martin Eason.  This also marked the first time that I got to shoot with the Canon 5D.  To call it a different way to approach a production shoot would be putting it mildly.  There's a certain weight and girth that you become accustomed to when shooting HD video, and making a transition to a point-and-shoot camera can be quite odd to say the least.
On the potential benefits side, it's always nice to be able to do an end-run around capturing footage by just transferring files to the computer for editing (wish they were generic AVCHD as opposed to the MOV wrapper, though).  Portability is also an advantage as it's much easier to transport that lugging a large, standard-sized camcorder.  It's also a big advantage to be able to move around with a wide range of motion and be able to tuck the camera away in a small space to get an interesting angle on a shot.  The biggest plus is the capability of using multiple lenses and employing the variety of settings offered by a high-end DSLR camera.  Finally, of course, it takes remarkable stills!
To sum up, despite a few minor personal quibbles, the benefits of having the capability of easily switching between lenses, portability, DSLR settings, ease of transferring video files, superb still camera capability, and wide range of motion makes the Canon 5D a viable, low-cost alternative or super supplemental production camera.